---
The annual Voice of the Ocean Photo/Video/Art Competition celebrates visual representations of the ocean. The best works by underwater photographers and videographers were presented and judged live by a celebrated panel of distinguished experts at ADEX OCEAN VISION 2022 at the Sands Expo and Convention Centre on the 18th September.
This year competition was tight, with hundreds of entries from 2020- 2022. The panelists were passionate about the finalists, showcasing their scores (with some scoring top 10s across the board!) and had some time to discuss each image too as there were fewer shortlisted this year. We also had a new category of short films which went down a treat!
Thank you to everyone who participated this year and CONGRATULATIONS to our winners! We look forward to the next competition in 2023…
Entry & Category Winner
Best of Show
Jules Casey (Australia)
Photo of the Year
XJ Toh (Singapore)
Environmental Photo of the Year
Brooke Lori Pyke (Australia)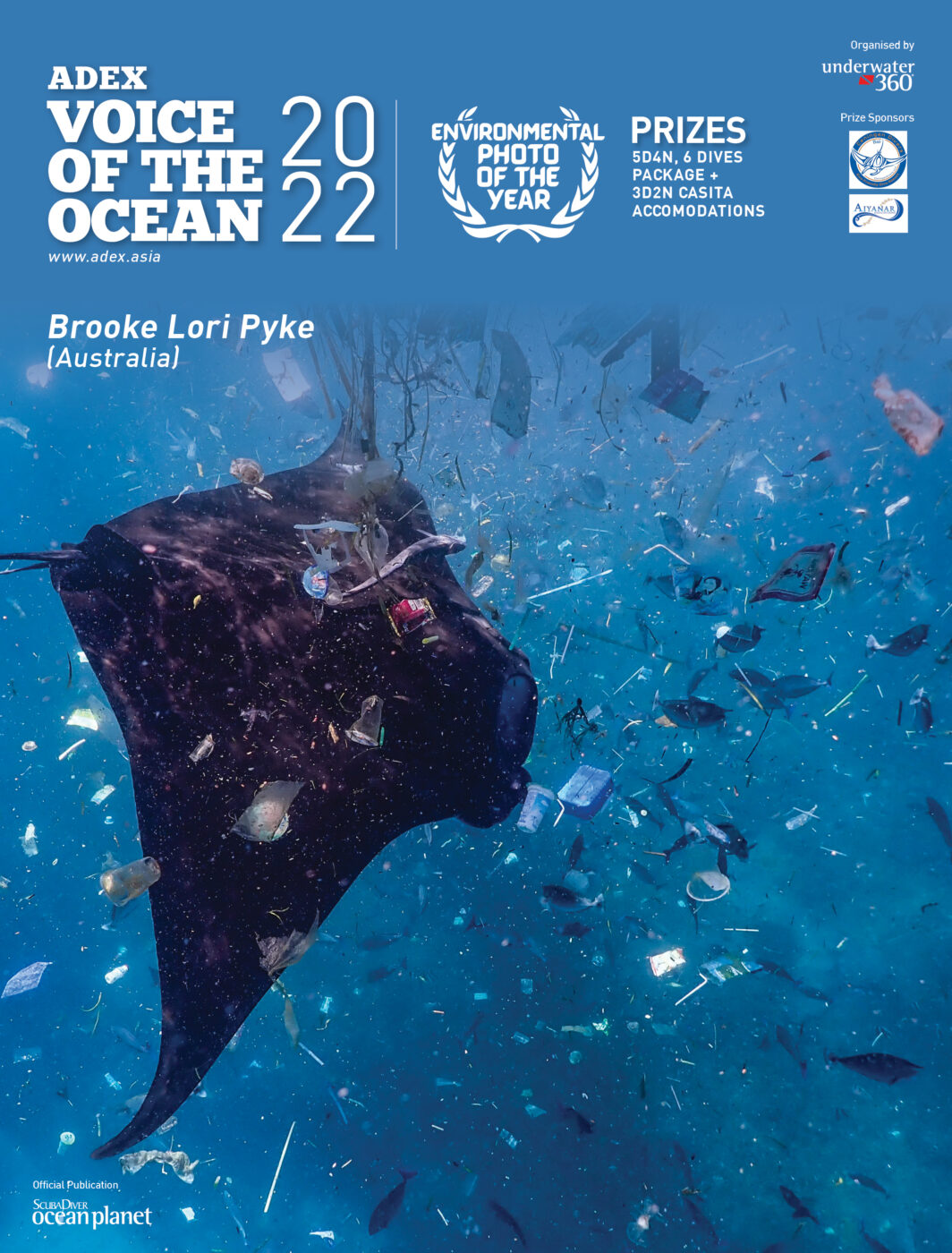 Compact Camera Photo of the Year
Miguel Ramirez (France)
Artwork of the Year
Arianna Romeri (Italy)
Underwater Fashion Photo of the Year
Meaghan Ogilvie (Canada)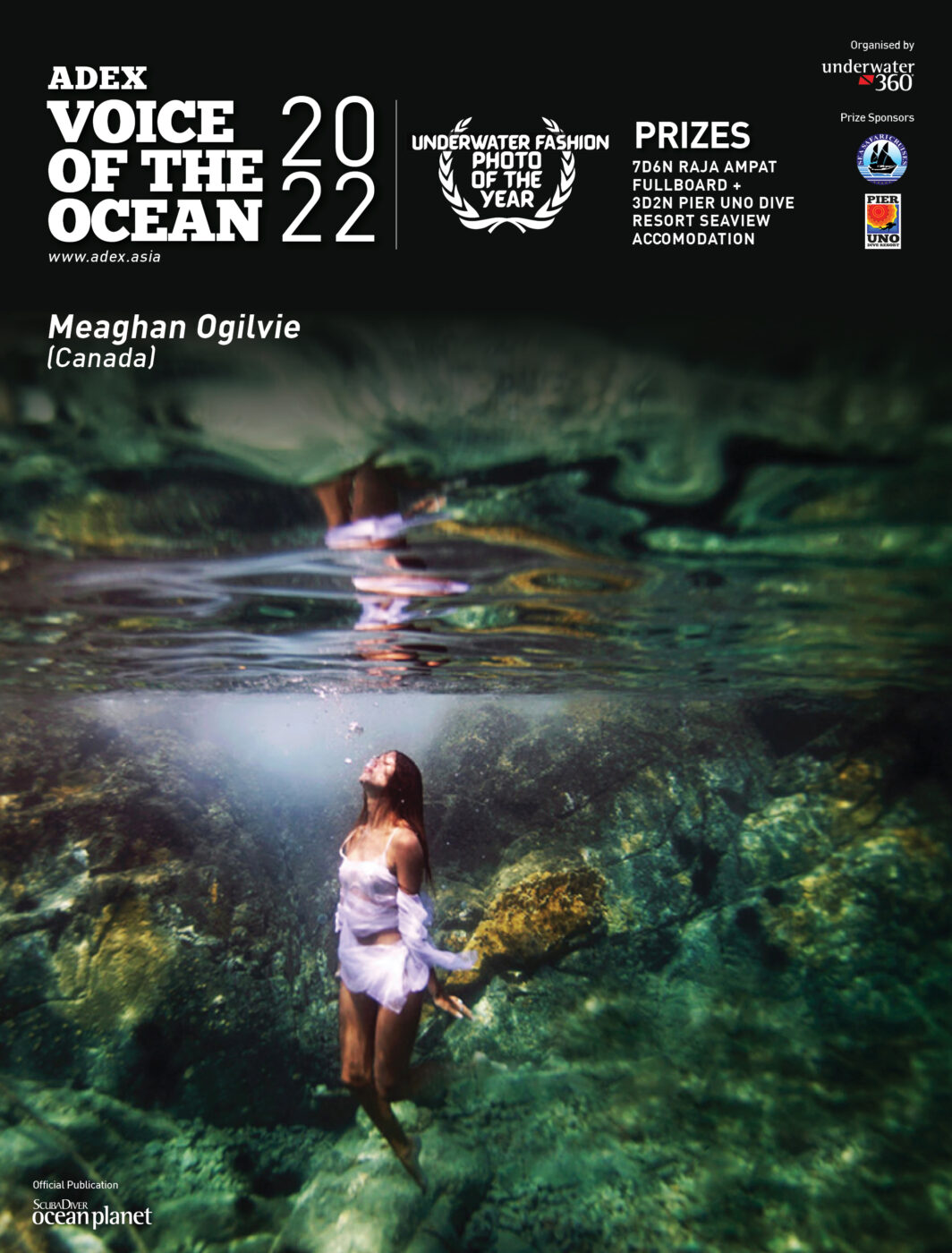 Video of the Year
Adil Schindler (Germany)
A beautiful story was told through Adil's videography. This was selected as the winner as it had the most structured and poignant message about loving our oceans as we love one another and showcased sharks in their best light.
Many thanks to our judges:
Scott Tuason's passion for photography has brought him on amazing journeys, from throwing himself into a feeding frenzy to dangling off a line in open water at night. The book Anilao, which he co-authored, won the Palme d'Or at Antibes in 2000, and his latest book, Blackwater and Open Blue, picked up Book of the Year at the 2017 Underwater Photographer of the Year Competition.
Renee Capozzola is an award-winning underwater photographer who specialises in wide-angle and split-level images. Renee believes that striking photographs help to increase awareness of our fragile marine ecosystems and encourage others to help protect our oceans. Her images have appeared in leading dive publications and have won over 50 prestigious international accolades including "Underwater Photographer of the Year 2021" in the Underwater Photographer of the Year competition and the "Female Fifty Fathoms Award" from the 2021 Ocean Photography Awards.
Tobias Friedrich is a multi-award-winning full-time underwater photographer from Germany. Several underwater photographic competitions have honoured his work, resulting in over 50 awards. In 2018, he was named "Underwater Photographer of the Year 2018" in the prestigious UPY London competition and "German Photographer of the Year 2019" at the World Shootout. He started taking photographs underwater with a DSLR in 2007 and, since then, his photographs have been published in prestigious scuba diving magazines and newspapers around the world.
Matthew Smith is a UK photographer and ambassador for Nikon Australia & Aquatica Digital Water Housings. After emigrating Down Under in 2007 in pursuit of furthering his photography career, Matty fell in love with the Pacific Ocean and has now made it his permanent playground. He is an Ocean Geographic Magazine Master Photographer and contributor and has won over 25 international photography awards, including the National Geographic Nature Photographer of the Year People's Choice Award 2017. His works have been used and published by National Geographic, the BBC's "Blue Planet II" documentary, The Washington Post, The Guardian, and Discovery Channel, amongst many others.
Imran Ahmad is one of Asia's most internationally published underwater photographers. Capturing life above and below the water's surface for over 25 years, Imran is best known for his experimental approaches to photography. He spends much of his time travelling the globe giving lectures and presentations, and promoting photography in all its aspects, both as an art form and documentary medium. He leads exclusive photography trips and runs workshops on wildlife, conservation, underwater, and travel photography.
---