---
When my colleagues found plastic in the guts of fish in remote Arctic waters, I knew we were in deep trouble. Plastic is ubiquitous and if we don't quickly shift into using alternatie natural materials, then this may be the biggest calamity to face the planet. Everything we use and discard will eventually be returned to our bodies in ways we never imagined.
– Jill Heinerth (Canada)
Tekdive Conference Asia
ASIA DIVE EXPO
(ADEX 2016, 2018, 2019 SPEAKER)
I think that now it's more important than ever before that governments and companies reduce the insane amount of plastic waste that we produce. If a global effort is not quickly adopted, we are going to choke the seas and therefore ourselves.

Every one of us can help protect our oceans by being mindful of the products we buy, recycling our waste,
participating in cleanups and disposing of plastic responsibly.
– Will Goodman (UK/Indonesia)
Tekdive Conference Asia
ASIA DIVE EXPO
(ADEX 2014, 2019 SPEAKER)
On behalf of Halcyon Dive Systems, I pledge to reduce our plastic and carbon footprint by 2020. We are committed to eliminating single-use plastic packaging in all our products, significantly increasing the use of recycled goods, sponsoring ghost net cleanups around the world, and powering the Halcyon manufacturing facility with solar energy.
– Mark Messersmith (USA)
Tekdive Conference Asia
ASIA DIVE EXPO
(ADEX 2016, 2019 SPEAKER)
Soiled nappies seem to be a guaranteed sighting on many of the dives around Cebu. As a mother, I felt not only heartbroken but guilty too, as we were using disposable nappies. I felt like I was contributing to the problem and diving allowed me to see it first hand. Upon researching the issue, I was appalled to find out that disposable nappie, which contain plastic, take somewhere between 200 and 500 years to decompose. For the New Year, we decided to switch to reusable cloth nappies. Our daughter is not only more stylish as a result, but a better citizen of our planet.
– Jade Hoksbergen (Taiwan/France)
Photo/Video Image Festival
ASIA DIVE EXPO
(2019 SPEAKER)
The regular sighting of critters clinging to trash for buoyancy or security attests to the magnitude of the plastic problem. The mere presence of trash in the seas already potentially brings struggling marine ecosystems in contact with foreign bacteria. And when plastics break down into smaller bits (microplastics), making them virtually impossible to filter from the oceans, they can be mistakenly fed on by microfauna that will initiate the passing of toxins as predation continues up the food chain. It will not be a surprise if the toxins even end up back in your dinner plate. Proactively being responsible with plastic consumption and proper trash disposal is a duty.
– Ram Yoro (Philippines)
Photo/Video Image Festival
ASIA DIVE EXPO
(ADEX 2019 SPEAKER)
Stopping the use of 'single-use' plastic must be the most urgent requirement but we are still going to need a massive cleanup process beyond most people's expectations. Photographing and documenting the problem on film is the only way to show the world how bad it really is – and more people need to speak out. Working on Blue Planet II was enormously encouraging. It was a huge relief to have David Attenborough help to revela the seriousness of the problem to people around the world.
– Jason Isley (UK/Malaysia)
Photo/Video Image Festival
ASIA DIVE EXPO
(ADEX 2014, 2016, 2018, 2019 SPEAKER)
Saying 'no' to a plastic ocean starts with you and me. I hope that in 2019, everyone will start using less plastic. No matter if it's refusing one straw, one plastic bag, or one plastic cup, these actions are small on an individual level, but they add up to a huge movement.
Every day we become more accustomed to powerful yet harrowing images of animal suffering due to the extreme plastic pollution our planet is facing. I sometimes believe the extent of the bombardment of these images, may render us 'blasé'. So, I decided to place a human in the centre of the kind of image that normally contains an animal. But this girl trapped inside a plastic bottle floating alone in the ocean works as a metaphor – what we are doing to the oceans, we are utimately doing to ourselves.
– Pepe Arcos (Spain)
ADEX Ambassador of Film-Making
ASIA DIVE EXPO
(ADEX 2015, 2016, 2017, 2018, 2019 SPEAKER)
—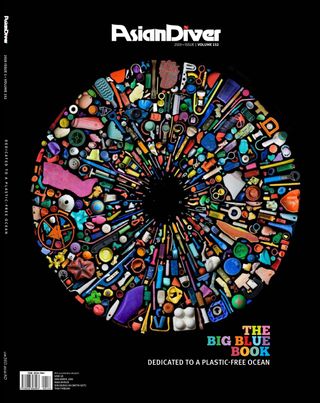 Inspired? Get to know more in AsianDiver Issue 01/2019 Vol. 152.
Look out for them in the upcoming ScubaDiver No.121 Issue 3/2021 coming out very soon! reserve your copy today by emailing marketing@asiangeo.com!
---
Trending Now