---
Every day, we find ourselves at the mercy of our own purchases, fuelled by fast fashion. It's a dreadful mess.
Original interview with Laura Francois by Asian Diver (AsianDiver Issue 2/2020 Volume 155)
Adapted for online publication by Goh Pearl Lyn
We buy things on impulse when we see they are 50% off before we realize that we don't actually need them. The clothes we order online will likely fall apart when we wear them. We are in a constant loop of buying from fast fashion companies without knowing who made our clothes or how it impacts the environment.
We can only hope they were ethically made, based on the companies' vague sustainability promises, and that we aren't buying something that will bite us in the end. 
The latest IPCC report has been causing a lot of stir, not only because it is 4,000-pages long, but because it highlights a code red for humanity. The urgency is in the air. In the very public conversation about climate change, fast fashion companies and their greenwashing practices have become too prominent.
We've seen an explosion of magical keywords appearing on our labels — renew, eco-conscious, sustainable. But how do fashion shoppers discern genuine sustainable efforts from the vague greenwashing tactics of fast fashion?
Microplastics from fibers
Many people may be unaware that the laundering of clothes alone from the next fashion collection has been spewing microplastics at a much, much, much greater scale than plastic bottles into the ocean. Synthetic plastic fibers — such as nylon, polyester, and acrylic are now about 60 percent of what makes up our clothes worldwide. These synthetic fibers are so cheap and popular, we forget they pollute our oceans in the most pervasive way. 
The ocean plastic pollution by microplastics is sneaky. Every time you wash your synthetic and semi-synthetic clothes, tiny plastic fibers shed off and leach into the environment. It is estimated that half a million tonnes of non-biodegradable fibers are released into the water supply each year. That's about 50 million tonnes of plastic bottles.
And these tiny, invisible fibers — less than 5 millimeters in length — can eventually reach the ocean. There, they are expanding the microplastic pollution that's accumulating in the food chain and being ingested by every sort of marine wildlife, including us. 
Sweatshop workers during COVID-19
Additionally, these speedy fast fashion supply chains rely on outsourced and often underpaid labor from factory workers overseas. The process is not only environmentally damaging and resource-intensive, but it is also hard to definitively regulate the industry's impact.
While many know that fast fashion means that companies frequently export their production overseas, what most people don't know is the distanced connection between production overseas and inadequate protection of workers. The widening disparity between workers and consumers bears a gloomy outlook of the complex world we live in. 
Sweatshop workers face additional challenges in the face of the pandemic. With the lockdowns and cancellation of orders by international retailers, factory staff were laid off or paid only a small percentage of their normal wages. This creates huge issues for workers where their already low pay makes saving extra difficult and the livelihood of their families is threatened. Bangladeshi garment manufacturer Mostafiz Uddin reminds us, "Poverty is a killer too, and many more people die from poverty than from COVID-19".
Whilst there is an incredible movement and progress for change especially on the Internet, there are those out there who are jumping on the bandwagon to shift the customer's focus from a company's appalling behaviors behind the curtains to something that's peripheral. It's the disappointing side to a positive development. 
Sustainability and human rights intertwined
Don't worry, it's not all doom and gloom. In "Fashion Faux Paus", Laura Francois, the country coordinator of global non-profit Fashion Revolution in Singapore and the co-founder of Clothing the Loop and ANEWKIND, compellingly connects our fast-fashion wardrobes to sustainability and human rights, rooting the current state of the fashion biosphere as a whole — and creating projects that leverage on diversity in co-creating solutions towards fast fashion. 
Benjamin and Laura created the tallest closet in the world – a space for people to witness what one lifetime's worth of clothing looks like. Image from www.laurafrancois.com
The insightful interview with Laura revealed details in three sections. The first focuses on her interest and efforts in human relations, creative arts, and sustainable design. Laura mentioned,
I think fashion is an industry that allows everybody to relate to the topic of sustainability, of circular economy, and of ethics in the supply chain, as clothing is relatable.
The second presents today's global fast-fashion and regular fashion industries and how they are under the spotlight now due to increased media coverage and the Internet, and how the voracious amount of clothes impact the environment and various communities. 
Lastly, the third approaches our shopping habits, and how she approaches fashion with solutions that are as human-centric as possible, aimed at reaching the Sustainable Development Goals. It includes her amazing projects, alongside Benjamin Von Wong, to empower startups, nonprofits, and governments to maximize sustainability. She meets people who are trying to reform the system entirely, from the materials we use to how clothes are produced and the ways we shop.
There is plenty of positivity and experimenting to get excited about. Laura displays her skills in human-centric design and sustainable development as she visits diverse industries that are the least bit connected, and creates an amazing cross-sector collaboration between them. Clothing the Loop, for instance, is a project that leverages art in the discussion of the circular economy.
Laura has succeeded in bringing together diverse ideas to pitch sustainable solutions to the major problems in the $2.4-trillion-a-year industry. However, it is up to us to change our shopping habits and our consumption patterns to truly make a difference. Laura quotes,
The next time you go diving and notice a difference in the landscape or an ecosystem, ask the tough questions. Be curious, find out, do something!"
—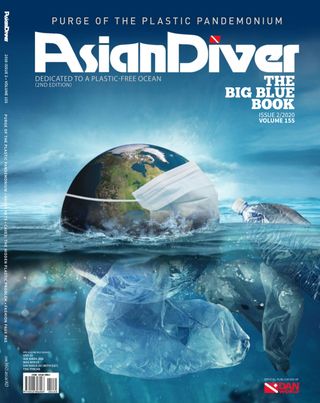 To read more about Laura Francois featured in the article Fashion Faux Pas, see AsianDiver Issue 2/2020 Volume 155 here or download a digital copy here! Check out the latest issue of the AsianDiver Magazine coming to shelves soon, or reserve your copy by emailing marketing@asiangeo.com.
---
Trending Now